To view NBES Library Media Center Policty Manual, click "FORMS."
Welcome!
New Brockton Elementary Media Center
Library Hours
The library is open from 8:00-2:30 Monday-Friday. Students may come to the library independently or with a class.
Check Out Policy
1. Students may check out a maximum of 2 books.
2. Books are circulated to students for 3 weeks at a time.
3. Students must recheck books if they are needed beyond the 3 week circulation period.
Vision Statement
The library will
enable our students to become seekers of ideas and information, will help nurture an interest in reading, and will encourage a desire for lifelong learning.

support instruction, informational and curricular needs.

seek necessary skills to continue its quest for knowledge through all available media.

create learning commons that will encourage curiosity and intellectual growth.

strive to work diligently with the school leaders and staff to develop curriculum that will facilitate learning that will meet the needs of our students.

initiate the use of 21st century skills by incorporating those skills into lesson development and teacher professional development.

help teachers in discovering new ways to incorporate technology into lesson plans.
Mission Statement
New Brockton Elementary School's library provides a warm, caring environment conducive to our students, faculty, and staff. The mission of the school library program is to provide an inviting, dynamic learning environment and services that support and enhance teaching, literacy and learning.
To support this mission, the school library:
· provides all members of the learning community access to a supportive, welcoming and learner-centered environment.
· works in collaboration with teachers, administrators, support staff and parents to provide learning experiences that promote student achievement, teaches engaging learning experiences, and meets individual needs.
· fosters the development of reading, writing, speaking and listening skills and provides experiences that expand and reinforce classroom reading instruction.
· promotes life-long learning through information literacy instruction that is integrated with classroom content.
· promotes critical thinking, engagement with information in all of its forms and the use of technology to enhance learning.
· providing access to all materials in all formats, including up-to-date, high-quality, varied literature to develop and strengthen a love of learning.
· contains rich and abundant collections of materials in many formats—both print and electronic—to meet the teaching and learning needs of the school curriculum and reflect diversity and intellectual freedom principles.
· fosters connections with the larger learning community to provide students with access to learning resources and activities beyond the school walls.
· providing students and staff with instruction and resources that reflect current information needs and anticipate changes in technology and education.
· providing leadership in the total education program and advocating for strong library programs as essential to meeting local, state, and national goals.
· communicates library program plans, needs and accomplishments to stakeholders on a regular basis.
Reading Programs
Accelerated Reader
Scheduled Library Events
October: Book Fair
March: Read Across America
Summer Reading
Newbery Award Books
Student Favorites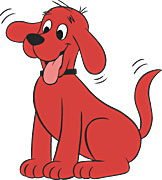 Clifford the Big Red Dog Hank the Cowdog Junie B. Jones

Berenstain Bears

Little Critter\

Curious George
New Brockton Elementary School Media Center welcomes you to come and check out today's most popular books for children. The Media Center is open everyday from 8:00-2:30.